Wesak Day is observed by devotees to celebrate Buddha's birthday, enlightenment and achievement of Nirvana. From very early in the morning, devotees flock to temples to meditate as well as participate in candle-lit processions. As a sign of benevolence, doves are set free and other charitable acts are also performed by devotees such as providing free vegetarian meals. The pinnacle of the celebration is in the evening where there is a procession of floats decked with colourful flowers and bright lights accompanied by children singing and monks chanting prayers while sprinkling holy water throughout the journey.
Activities:
Buddha Day Procession – starts at 6pm
Wesak Day Celebration
Blood Donation Campaign
Gifts and Red Packets to Charitable Institutions
Dana to Sangha
Dharma Talks
Wesak Night Dinner for the underprivileged
Series of Dharma Activity
Date: 25 May 2018
Time: 8pm
Venue: Malaysian Buddhist Association
Dana to Sangha
Date: 2 June 2018
Time: 11am
Venue: Malaysian Buddhist Association
Donate Flowers to Decorate Buddha Float
Date: 26, 27 & 28 May 2018
Time: 10am-11pm
Venue: Malaysian Buddhist Association
Date: 29 May 2018
Time: 8am-12pm
Venue: Malaysian Buddhist Association
Procession route:
Starts at 6pm from Malaysian Buddhist Association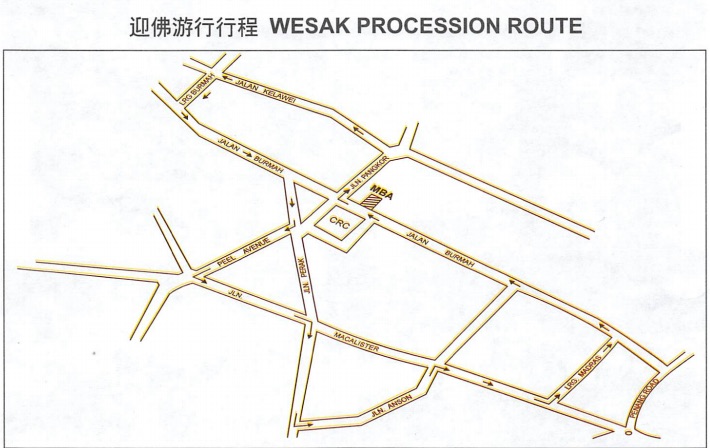 Contact Number
+604-226 2690
Website
http://www.malaysianbuddhistassociation.org/
Address
Malaysian Buddhist Association, 182, Jalan Burma, 10050 George Town, Penang
Extracted from the Penang Website of the Penang State Government.